1 ˝ year old Certified Mold Detection dog for sale due to owner's back injury.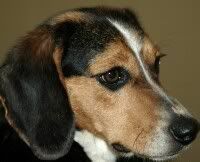 Boone is a 1 ˝ year old Beagle who lives and loves to work. He was certified in February, 2006 by FSI in Birmingham, Alabama, and is an exceptional detection dog. Bonne is crate trained, gets along very well with other dogs, and has been professionally trained for off leash obedience. He is a very sweet, and handsome dog. I have hurt my back and am unable to work him, but am maintaining his training. Owner will sell Boone solo, or as a package with new equipment. Please contact owner by phone: 410-788-6149 or e-mail: k9products@comcast.net. You will not be disappointed. Betsey Collins
Betsey S. Collins, CMI, CMR
Moldsnoopers K-9 Mold Detectors, Inc.
410-788-6149